While most other students were juggling classes and extracurriculars, Sayid was doing something else unique. "It was at Penn that I began the process of applying for political asylum," he said, noting that he was the only Penn student to be going through the process at the time.
Sayid sought asylum because he risked persecution in Kyrgyzstan due to his ethnic and sexual identity. Last week, his case was finally approved by the State Department, he explains, clapping his hands together excitedly, the happiness evident in his eyes.
"When I got that letter, I just lost it," he said. "I had always known I belonged, and now I had the documentation to prove it."
After going through the process of applying for asylum, Sayid decided to do something to transform the process. Along with College senior Katie Sgarro, he is currently working on a database called Asylum Connect to help LGBT political asylum seekers find material resources when they arrive in the United States.
"We found great mentorship in Dr. Hocine Fetni who has expertise in international law and we also spoke with professor Fernando Chang-Muy from the Law School," Sgarro said. The duo unsuccessfully submitted their project to the President's Engagement Prizes this year, but they are still moving forward with the proposal.
"We feel that this issue is too important to ignore," Sgarro added.
Outside of his partnership with Sgarro, Sayid is also working with College senior Ariel Koren to develop his own line of Beats headphones and shades that he calls Bloque the Hate, the proceeds of which will go to supporting homeless LGBT youth, and he is also currently working with teams of television producers in Los Angeles to create his own TV show.
On top of all this, Sayid serves as a Youth Ambassador to the United Nations and regularly gives speeches at their headquarters in New York City and around the world. He is also currently the United Religions Initiative Youth Representative to the United Nations and was named a Point Scholar last year.
When Sayid isn't busy attending conferences or giving keynote speeches, he enjoys being a typical college student. He gushes about Shonda Rhimes, the creator of ABC shows "Grey's Anatomy," "Scandal" and "How to Get Away with Murder," and he spouts Oprah quotes without even blinking. He is a member of Penn's national service fraternity, Alpha Phi Omega, and maintains a large circle of friends.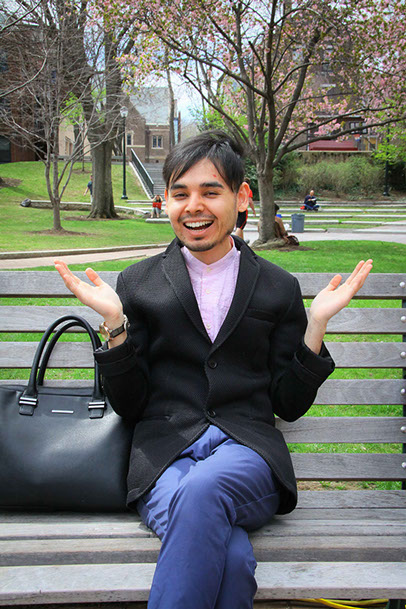 "I've always known that my life mission is to help people unfold their stories — and what an amazing gift that is. This will help me get there," he says confidently. "One of my favorite quotes is, 'I come as one, but I stand as thousands' by Maya Angelou."
For his friends at Penn, this is Sayid's true talent — getting to know people, unfolding their stories and becoming their friends.
"Sayid is one of the most supportive people I've ever met," said College senior and fellow APO brother Mike D'Antonio. "He's always there. If you're having a hard time or a bad day, whenever you need him, he makes time for you."
Sgarro agreed. "We joke that he 'doesn't even go here,' because he travels so much," she said, quoting the iconic line from the movie "Mean Girls." "But even when he's gone, we're constantly talking."