As Denzel Cummings collects his diploma this spring, he'll leave behind an important legacy from his work over the last four years.
First and foremost, it is a legacy of empowerment and compassion. To friends and loved ones, Denzel is a symbol: when a Penn student finds their unique voice, they can use it to become an effective advocate for social change.
"Over the last few years, Denzel has emerged as one of the more thoughtful and intentional leaders on our campus," said Charles Howard, the University Chaplain. "He presents a kind of contemplative activism that really has been a model for his peers."
Amongst Denzel's closest friends, he is recognized for his "superior command on benevolence and altruism," Jelani Hayes said. "I truly believe that this University, and especially the black community at Penn, has been uplifted by not only his activism and tangible contributions but by the warmth with which he surrounds his friends."
But Denzel's story is not without struggle, and it explains how he came to acquire such admiration from others. A lot has changed since he arrived on Penn's campus as a quiet, shy boy who grew up in rural North Carolina.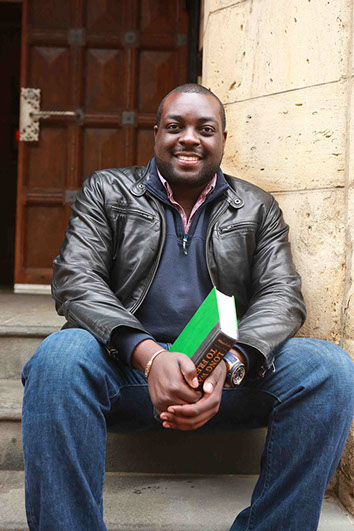 FROM
CANADA TO COMPROMISE
The injustices Denzel experienced in his upbringing catalyzed his desire to affect social change. He was born in Toronto, Canada, where his parents had moved from Guyana to give him a better life. The Cummings then moved to Laurinburg, N.C., where Denzel attended a predominantly white high school. His father described him as someone who would spend his vacations studying, and Denzel soon found himself rising through the ranks into the academically gifted classes.
Denzel was ranked second in the class in his junior year. But when the school realized that he was in the running to become valedictorian, the administration banned him from pursuing AP classes, Denzel said. The reason was not disclosed, but to Denzel, it was evident that the institution did not want to see a person of color triumph academically above an entire class.
At such a young age, Denzel had come face to face with external structural inequalities, limiting him in a way that was out of his control. To challenge this, he transferred to another high school, where he did become valedictorian. The transition and the reason for it was devastating for Denzel, but he looks back on it as a source of unwavering motivation to change the system.
"As a result of the negative impact of injustice on my community in rural North Carolina, I have decided to tirelessly pursue justice for the underrepresented and the disenfranchised," he said.
Denzel was given this opportunity when he left North Carolina with a handful of Ivy League acceptances under his belt, including one from Penn.
After joining the Society for the Pre-Law Students of Color as a recording correspondent, Denzel heard about UMOJA, the umbrella organization that unites the African Diaspora groups on Penn's campus. He went on an UMOJA retreat and was soon elected to the admissions team to represent the interests of colored students.
This position was his first opportunity to be an activist. When Penn's Office of Admissions planned to cut the Multicultural Scholars Preview, a day of events for minority students accepted to Penn just before Quaker days, Denzel did everything in his power to negotiate a compromise.
He was successful, saving something for students who would never have known what they missed. It was then that Denzel realized he could influence decisions concerning the rights of others on a grander scale. Denzel was appointed as co-chair of UMOJA, and in his junior spring he learned a lot about how to run a system behind the scenes. He was constantly being challenged to find common ground between the 30 odd organizations that UMOJA represents. Forced to find common themes between different perspectives, Denzel gained a set of skills that would prove to be invaluable in ways he could not have imagined.
In hindsight, it was easy to see just how Denzel put these skills to strategic use. That summer of 2014 would call upon each and every of his capacities. Denzel was at a conference in Boston when he heard about the incident of Michael Brown's death in Ferguson, Mo. He attended a panel that featured Charles Blow, the New York Times op-ed columnist who pulled no punches: the issue of race was alive in America.
THE PATH YOU NEED TO TAKE
Undoubtedly, one of Denzel's greatest and most timely achievements was his response to the outrage over Michael Brown's death: he played an integral part in the formation of the Black Ivy Coalition on Sept. 21, 2014. Signed by two leaders from each of the eight Ivy League schools, the Black Ivy Coalition's declaration that Denzel helped to write and sign is a straightforward, direct critique of the current system.
It began as a lengthy op-ed piece between Denzel and his contemporaries at other Ivy League schools who were keen to add their voices in the heat of the moment. Despite their differences in geography and institutions, Denzel identified their common agenda of solving systematic oppression. From his work at UMOJA, he helped to show his Ivy League contemporaries how small individual differences could be put aside for the broader goal of positive change.
With this, they realized, they could conduct large-scale political activism. They joined forces and firmly supported the REDEEM Act, which aimed to seal records of people who committed non-violent crimes.
Most importantly for Denzel, the Black Ivy Coalition unites the civil rights activists of this generation and is backed by the rationale of the nation's brightest and best-educated students.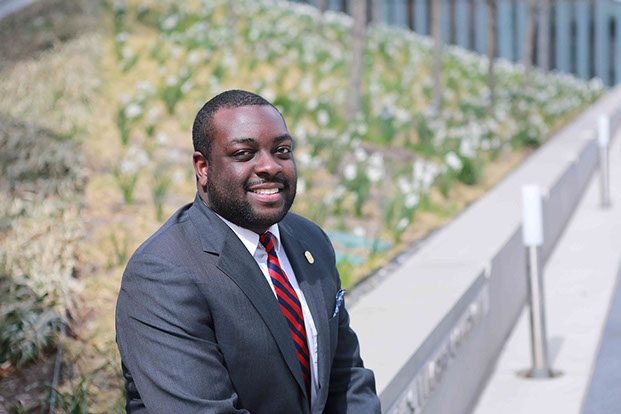 "It is now time for our generation to lead the movement against injustices toward people of color in the 21st century," the declaration's tagline reads. The piece itself highlights their agreement to use "awareness campaigns, peaceful marches and legislative proposals" "to address this systemic problem and incite change in the current national policy of viewing black people solely as instruments of fear and violence." It conveys the group's indifference to the work of current leaders such as Rev. Al Sharpton, Jesse Jackson and President Barack Obama.
Crucially, the Black Ivy Coalition demonstrates Denzel's wholehearted belief that the civil rights movement is not over. Denzel stressed that sometimes the graveness of the situation forces one to take a firm stance. He said, "it may be the path that is less traveled, but if you want to do something about these issues, it is the path you need to take." Then he offered reassuringly, with a smile, "Don't be afraid to ask for things. Don't be afraid to tell people what you want and desire. Because when you tell people what you want, people will always be willing to help you."
It was not long before the Black Ivy Coalition received media attention. Articles were posted about it in The Huffington Post, the holy grail of online mass media. Reading about it in Yale news was a rewarding experience for those close to Denzel, who saw the growing ripple effect of his work. In his father's words, "We are so proud of his accomplishments at UPenn and the humanitarian he has become."
UBUNTU
Following the university-wide concern about student mental health in the spring of 2014, Denzel spearheaded the creation and implementation of the "My Safe Space at Penn" campaign. Working closely with Vice Provost for University Life Valerie Cade McCoullum in Denzel's junior year, the initiative advertised on-campus networks for students coping with weighing issues. They created a video to engage students with the work at the Greenfield Intercultural Center, La Casa Latina, the LGBT Center, the Black Cultural Center Makuu, the Pan-Asian American Community House and Penn Women's Center.
Denzel's collaboration in this project exhibits his broad vision of community and the importance he places on common humanity. He is empathetic and sees all human beings as equally worthy of representation and having their voices heard. He is the embodiment of the concept of Nguni Bantu the term "Ubuntu," or "humanity toward every and all human beings," a term presented in the Black Ivy Coalition's declaration.
In his senior year, Denzel organized a panel on the diversity of Penn faculty and held a public forum designed to train both students and faculty of the perceptions of affirmative action. He worked tirelessly with the Vice Provost of Faculty, Anita Allen, to publicize student testimonials on why having a diverse faculty is important to students. Denzel devoted his efforts to these challenging yet crucial discussions and debates. This dedication is echoed by the words of his friend, Katherine Mateo, who served with Denzel on the 5B as Vice Chair of the Latin@ Coalition: "Everything Denzel does, he does with careful consideration and an incredible personal investment."
Denzel is majoring in politics, philosophy and economics with a focus in distributive justice, but this is only the shadow of his deeper ambitions: to dedicate his life to social justice — first by going to law school, then by representing and advocating for disenfranchised juveniles of color and low-income communities. He wants to jump on widely publicized issues such as the school-to-prison pipeline and the shocking rates of incarceration in the criminal justice system.
"I want to be an advocate for people of color or individuals who are from impoverished communities," he conveyed firmly. "Ultimately, I hope this leads to me running for Congress one day."
Talking to him, one understands his desire to enter challenging spaces like death-row prisons in Alabama. He believes that in order to comprehend the issue you want to tackle, you have to occupy those spaces.
Immediately after graduation, Denzel is working in education policy through the Emerson National Policy Fellowship. In partnership with Penn's Netter Center for Community Partnerships, the program involves advocacy for spaces on Capitol Hill like the Senate Committee on Health, Education, Labor and Pensions. This is the next step in his journey of advocacy and is his chance to enter the spaces that he hopes to work in during law school.
Denzel is grateful for his time at Penn and its opportunities; he feels "blessed," he said, because "[Penn] has brought so many interesting people into my life, who I constantly learn from." But he, in turn, has brightened the lives of many people here. When he's not watching scary movies in his downtime, or hanging out at Makuu, Denzel is an avid supporter of all those close to him.
Victoria Ford, Denzel's dear friend, nicknamed him Diesel because he is "quite literally the fuel that keeps me going." "Denzel will be front row cheering for you at a performance, help[ing] you study for class and then lead[ing] a discussion on intersectional feminism all in the same day. He is an ally, a friend and an incomprehensibly loving leader."
In the campaign for racial equality and respect for all of America's citizens, Denzel embodies in his spirit and his practices the steadfast, effective leader that the campaigns for social and racial equality need. He symbolizes how students can channel their feelings of frustration at systems that are seemingly out of their control into concrete mechanisms for progress and simultaneously retain values such as respect and altruism. He has shared his power to sift through our preconceived differences and extract common goals.
As Victoria describes him, Denzel is "a man who ignites, who motivates you, who generates power for every single person around him."